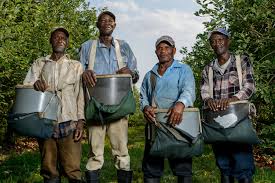 There's nothing like the aroma of a freshly baked apple pie. This great American dessert has been around since the 17th and 18th century, and no doubt at some point in your life you've enjoyed the comfort of a warm apple pie with a dollop of ice cream on top. This tantalizing dessert doesn't come together without first picking great apples.
Today, many New Englanders enjoy apples picked by Jamaican workers, bought in through the federal government's H-2A guest worker visa program. This program allows farmers to bring in temporary agricultural help from outside the country to fill labor shortages. Sacrificing time away from their families, these skilled workers hope to earn a better living and secure a better future. Typically, these workers arrive in New England just before Labor Day and stay through mid-November.
Each year the men of New Covenant travel to apple orchards in order to bring Bible studies to these migrant workers. These workers, predominately men, sometimes work seven days a week and have no opportunity to attend traditional worship services during harvest season. Hence, Sunday evenings, the men of New Covenant take Bible studies to the orchard barracks. We sing their favorite songs (some of which they teach us), pray with and for them, and study God's Word, spreading the Gospel beyond the physical church building. There have been reports of healings, as well as conversions to faith in Christ Jesus. Along with God's Word, we distribute toiletries and Christmas gifts that the workers take back home for their children. Whenever conditions permit, toward the end of harvest season we bring the workers for a service at New Covenant, which includes a fellowship meal.
How Can I Help?
The call to spread the gospel is clear, "Go therefore and make disciples of all nations, baptizing them in the name of the Father and of the Son and of the Holy Spirit, teaching them to observe all that I have commanded you. And behold, I am with you always, to the end of the age." Matthew 28:19-20 ESV
There are several ways you can help the Migrate Camp Ministry:
Commit to praying for migrant workers and their families as well as those ministering to them.

Generously give your monies to support the migrant camp effort.

Donate men's clothing and shoes (new and slightly used) to NCCF for the migrant workers.
Collect toiletries and Christmas gifts throughout the year for donation to NCCF for the migrant workers.
Volunteer to help lead bible study at an apple orchard.
Contact Us
---
Migrant Camp Ministry
New Covenant Christian Fellowship
359 Clinton Avenue
Albany, NY 12206
Phone: 518-432-1137
Fax: 518-432-1393
email: nccf@nycap.rr.com
For more information on volunteering go to Volunteer